Welcome To
Webo Angus
WELCOME TO OUR 16th ANNUAL SALE
We Thank You for your interest and consideration of WEBO Bulls. WEBO Angus will absolutely stand behind our cattle, let us know if any issues come up. We will do what is right and will correct any problems to the best of our ability, our goal is that you'll be happy and satisfied with the results.
It's been quite a winter for all of us in one way or another. Our snow has blown one way and then another since December, then for more winter fun we have added more snow during the winter as I am sure most of you have. Our hope is that every corner of our country is covered in green, green grass. My Mom has had some health issues and required some additional care. I quite simply ran out of time so you will notice there are no foot notes for the bulls. We added foot notes to every AI or Herd Bull, this should help you to understand what our goals for this cow herd are as well as why we've used the bulls we used.
We are still applying lots of pressure on fertility, it's the number one trait that will keep us all in business. Hardy-maternal cows has certainly paid off, our weaning weights are some lighter because of the continued drought conditions, but the cows are breeding up early and staying in pretty good shape.
We continue to select for feed efficiency, this year every bull selling has been efficiency tested & we have added efficiency EPD's in this book. Please read the letter about feed efficiency testing from Dr Steve Paisley, Director, UW-SAREC. Additionally, we have included information From Grow Safe. What this basically means, we are building a cow herd that will stay in shape, eat less and not give up a pound of gain in the feed lot. This will help the bulls you get from us stay in shape and influence the efficiency in your cow herd. If our cattle only effectively reduce consumption by 10 or 15% over several years in their off spring, that starts to add up quickly at both the feedlot and the ranch. We strive for this without effecting performance and reproduction.
Our program in a nut shell, We keep stiving to balance all traits in maternal indexes, then we look at the Feeder, Grid, Beef and watch the $Combination index. We also realize we can't do extreme growth in our program as here in Wyoming we don't usually have an abundance of feed needed for extremes. We stive for plenty of pounds & plenty of growth coupled with fertility and efficiency & we'll take carcass when we can get it, but we can't afford single trait selection in our program.
Our bulls are and will keep stepping up to meet your program. They are not burned out on hot feed, we strive to raise bulls that will sire market topping feeder calves, that grow and finish quickly, grade and hit the target weights of 1450# to 1550# payweights in an efficient and timely manner. It's also important to us that our bulls will last several years for our customers, with the hardy, get it done genetics added in the last few years, we think you will like them. Yearling bulls were tested at Lingle, WY. There are also a set of good big 2 year old bulls, we keep some of our younger bulls exclusively for this sale. These older bulls can handle the miles to water, rough country and really get the job done. They have been PAP tested here and efficiency tested at Midland Bull Test.
Come for lunch on Tuesday April 4th, our local Cattlewomen serve a great lunch. Look the bulls over make your evaluations, call us if you need additional help or information. We are very grateful and honored that you allow us to have the opportunity to be your source for high quality Angus Bulls. Thanks for coming.
Sincerely,
Buttons York & Family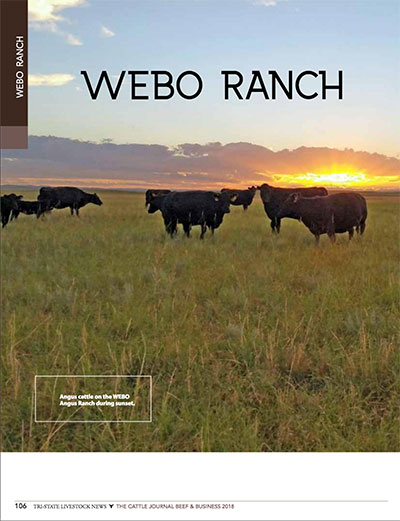 WEBO Ranch
Tri-state Livestock News Article
by Ruth Nicolaus