Welcome To
Webo Angus
WELCOME TO OUR 11th ANNUAL PRODUCTION SALE
Here at WEBO our goals are to keep building genetics that will excel and work for all of us in both up and down markets. Meaning, cows that work without huge inputs, cows that can hunt feed, wean a good calf and do well when cowmen and women are cutting corners so the bottom line shows some black ink. In addition their calves have to work in the feed lot and fetch a premium at harvest, are super tender and a delicious eating experience for our customers.
We are striving to raise bulls who will sire big strapping feeder calves that will produce1450# to 1475# payweight cattle, we are putting selection pressure on YW Epd's to be +90 to a maximum of +115. This range of YW will help us and our customers control cow size and cow maintenance requirements, optimizing the cow herd. We are also applying quite a bit of selection pressure for feed efficiency RFI (Residual Feed Intake) and DMI (Dry Matter Intake) without losing ANY performance. We are buying Herd Bulls that convert feed to gain of no more than 1 to 6 in yearling cattle. Small, slower growing cattle that don't gain and grow when they hit feed don't lead to repeat buyers for feeder calves or yearlings, that's why we watch the gain to pounds of feed ratio so closely. On the other hand, big high performance, high input (take that as lots of extra feed) cows just won't work in our country, they quickly end up out of a job.
Last year we added a few commercial heifers to the sale, in addition to open heifers, this year we are offering several head of big strapping 2 year old bulls. These bulls have NEVER been offered for sale before, no one has had a chance to sift through these bulls we kept them hidden. We will be offering a nice package of 2 year old bulls, each year from now on.
In this sale, there are heifer bulls that will work on any heifers, in our opinion +10 and above with +2 BW or less will work on small frame Angus, Crossbred or Hereford heifers. We use bulls on our own heifers that are +7 CED and +2.5 BW. They easily calf with these numbers, but of course we have the advantage of knowing their genetics. We also look at the BW of the Dam's and Grand Dam's, and make our recommendations on the best information we have.
AT WEBO we continue to follow Waldon's "Old Cowboy Rule" of putting as much milk and performance as your environment will let you have in your cow herd to keep performance wound up. We have made a couple of changes, putting more pressure on our cows and heifers to breed up early. The heifers are now on a 30 day breeding season and the cows have a chance to get pregnant in a 45 day window. They either fit the criteria or down the road they go, we do this to help find the really fertile females in our herd, thereby improving the genetics we pass on. We are still striving for optimum and not maximum for any one trait, we can NOT get along with big ol' cows that demand lots of inputs. We summer on grass, no creep for the calves, cake and hay in the winter, we run them pretty much like our customers run their cows.
Please join us on Tuesday April 3, 2018, the Niobrara County Cattlewomen will serve a great beef lunch. Look the bulls over and make your own assessments. We stand behind our cattle, if an issue comes up let us know, we will do what is right and strive to correct any problems that may occur. We are pleased and thankful to have the opportunity to be your source for high quality efficient Angus Bulls.
Sincerely,
Buttons York & Family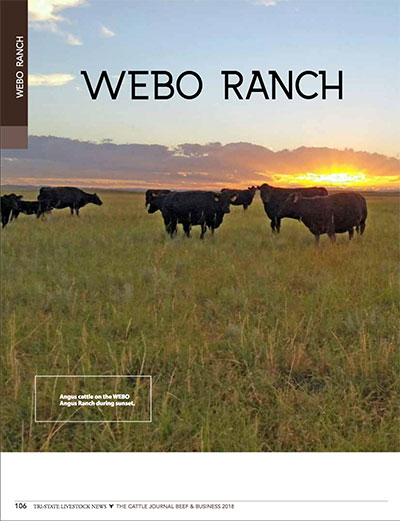 WEBO Ranch
Tri-state Livestock News Article
by Ruth Nicolaus